I had the pleasure of helping out with our church's Girls in Action group this year. The girls were amazing, but what was more amazing was the work and dedication of Mrs. Lisa, the group's leader. I knew there was no way to thank her in a way that could begin to match the time, talents and resources she put into the group, so I did the next best thing. I made her something!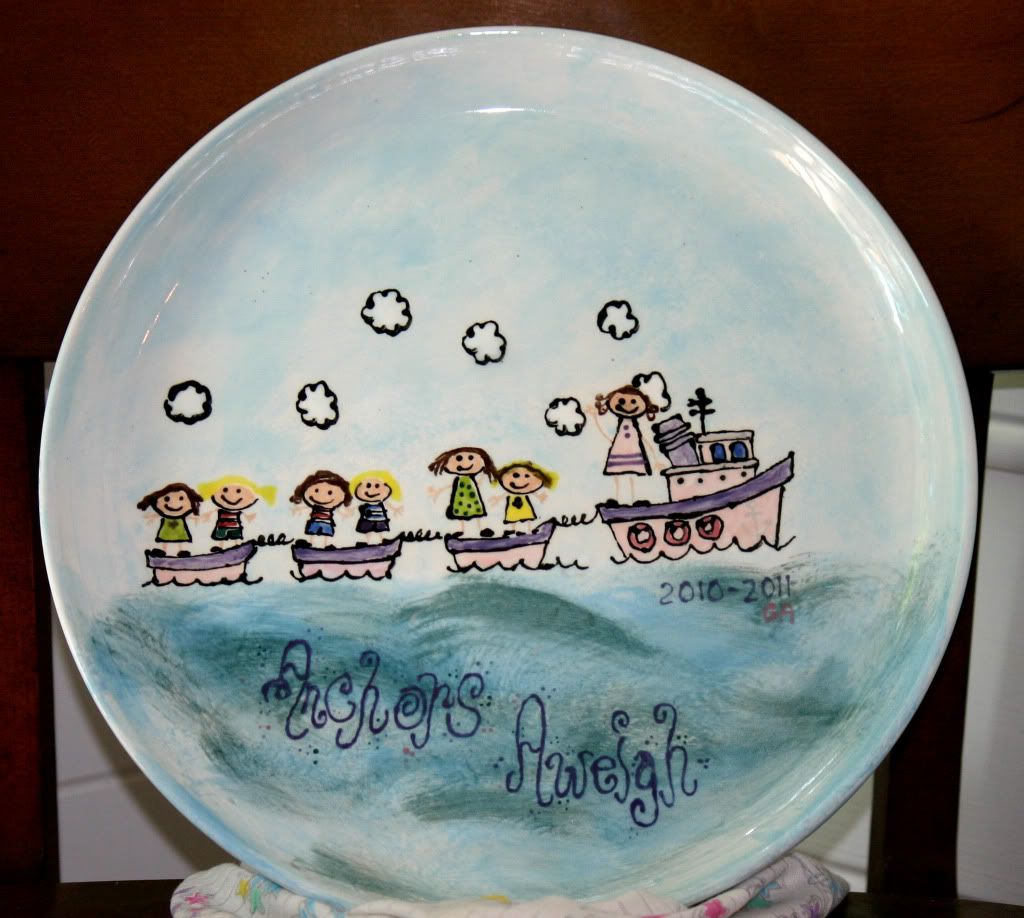 Last Friday, I loaded my Stampin Up! Boatloads of Love, along with my All in the Family stamp sets into my craft bag and headed to Bisque n' Beads. This year's theme was Anchors Aweigh, so a nautical themed plate was perfect!
I was so excited to get started on this gift for Mrs. Lisa. I mean really excited. So excited that I showed up about thirty minutes before the place even opened! Now I know. Bisque n' Beads does
not
open until 10 a.m.. Matter of Fact, NOTHING (except for the little pharmacy) opens before 10 a.m. on the square in downtown Hickory. Hmph. Luckily the weather was nice last Friday morning so I walked down to the pharmacy, bought a Coke and sat on a bench and waited for the store to open.
Once they let me into the store, I went to the wall, picked out a big plate that would be the perfect size for Lottie Moon cookies and got started. I stared by stamping the images directly onto the bisque. I used Memento Tuxedo Black (my favorite). It really didn't matter what ink I used at this point. The ink will fire out. If you want your line image to work directly from the stamp, you have to stamp with actual pottery glaze. In this case, I traced back over the lines with a fine tipped squeeze bottle of pottery paint. This was a good thing because I accidentally stamped a cloud a little too close to where Mrs. Lisa's head was supposed to be stamped! I had a little bit of overlapping going on for a while!
After that, I painted, and painted, and painted! I was there for over two hours, but here it is. My gift for Mrs. Lisa. I gave it to her on Wednesday night and she loved it. There's just something about hand painted pottery. Love it! :)